Sash Cord Replacement
Do you have a broken sash cord that needs a sash cord replacement?
Are your sash windows difficult to open?
Tel: 020 8935 5368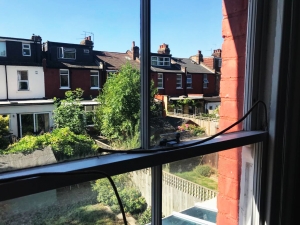 Experiencing any of the problems mentioned above it may be a clear indication of a sash cord replacement
Regular uses of a sash window being open will require a Sash cord repair.
Once a sash window cord has broken, it will become difficult to operate and in some cases, won't open.
At The Sash Cord Man, we provided a sash cord repair services from as little as £45.
We are specialist in sash cord replacements and have been providing these services for over 25years.
Replacing a sash cord is quite straightforward, once you have the right tools and know what you are doing?
A typical sash window has 4 sash cords attached to either iron or lead weights, located inside the pocket of the sash box.
The Sash Cord Man, are not only great at sash window cord replacement, but we are also experts in repairing sash windows.
SASH CORD REPLACEMENT
What causes a sash cord to break?
 There are loads of reasons a sash cord will break, but the 5 most common cause of a broken sash cord is:
painted or brittle Sash cords will eventually snap
Jammed weights inside a sash box can also cause a perfect cord to snap
Pulley wheels that are broken or frozen, can cause sash cords to break prematurely
The wrong sized sash cord especially on double glazed sash windows
Sash cord repair that has not been installed incorrectly to the sash weight or not pinned secured to the sash window sides.
Above are just a few examples that we have personally seen time and time again from a broken sash cord.
If you are experiencing any of these problems or for assistance in fixing your sash window cords, please feel free to call us on:
https://www.instagram.com/sash.services/
West London Coverage – Sash Service
https://www.sashservices.co.uk/wp-content/uploads/2019/03/SASH-CORD-REPAIR.jpeg
768
1024
Sash Services
https://www.sashservices.co.uk/wp-content/uploads/2018/09/Sash-logo-300x138.png
Sash Services
2021-11-11 10:37:34
2021-11-11 11:59:40
Sash Cord Replacement